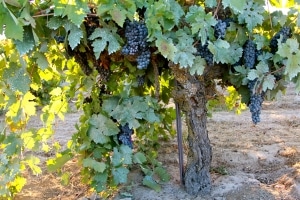 (San-soh) a high-yielding, early-ripening, hot-weather red grape, generally used in blends. Cinsault tends to be low in tannin, and is often added to blends to add a spicy component. Not often found as a varietal bottling. Cinsault is the "king" of grape varieties in Provence Rosé winemaking. Its large juicy berries produce elegant mouthwatering dry Rosés, for the sophisticated palate. Among the grape's claim to fame is being half the genetic cross (along with pinot noir) behind the South African Pinotage grape. Cinsault came to California in the 1860s, but total planting in 2004 was only 144 acres, producing a mere 672 tons.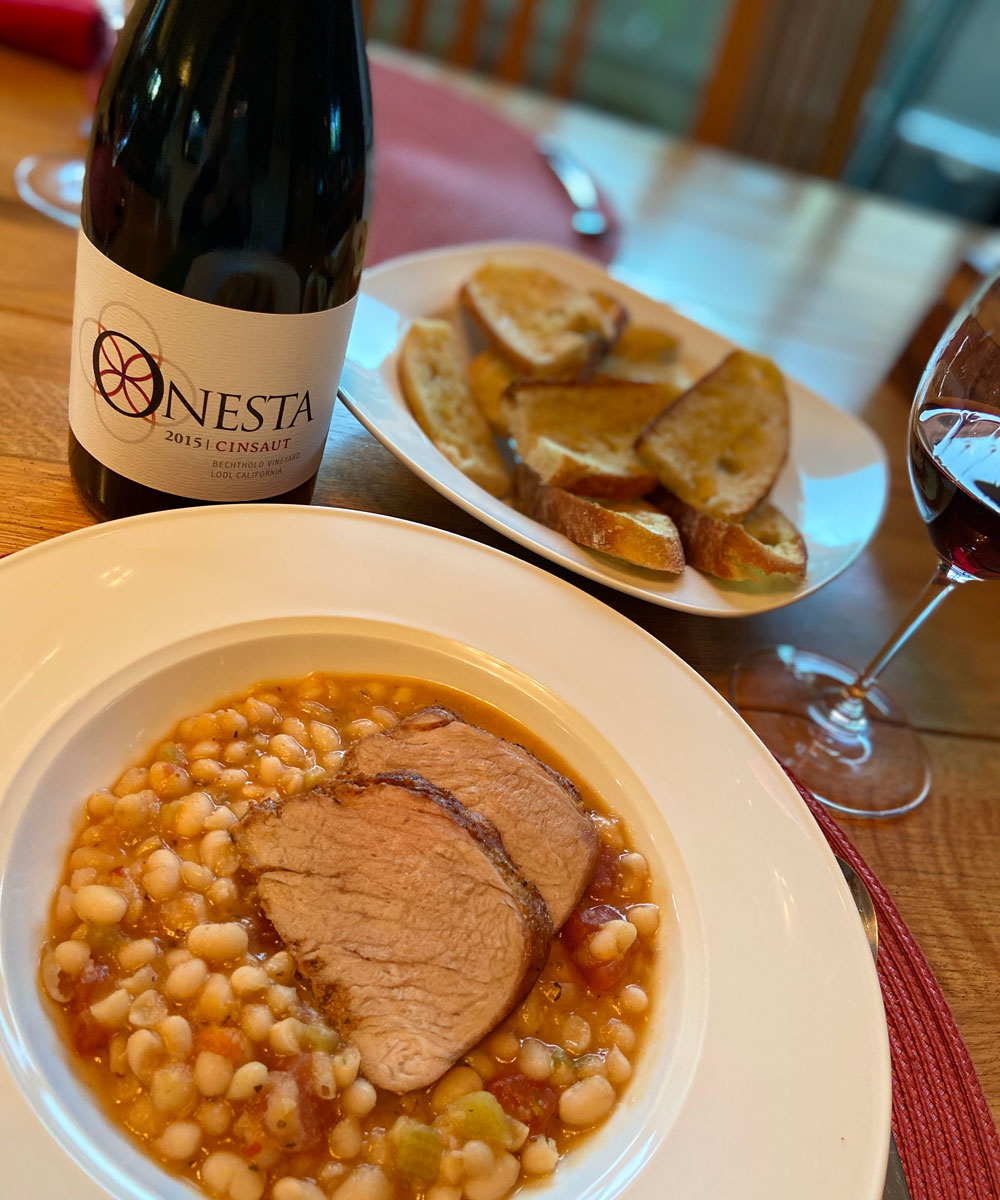 2017 Cinsault
This A-typical, rich and intense Cinsault has every right to be bottled as 100% Cinsault, coming from the oldest Cinsault vineyard on the planet. The vineyard, planted in 1886 produces fruit with good color, serious fruit intensity and rounded tannins. For those that do not know Cinsault, it can be described as having the elegant weight of a hearty Pinot Noir, with the fruit forward attitude of a Zinfandel. Onesta Cinsault explodes strawberry and spiced rhubarb, with hints of vanilla from aging in mostly neutral French oak barrels. We dare you to have just one glass.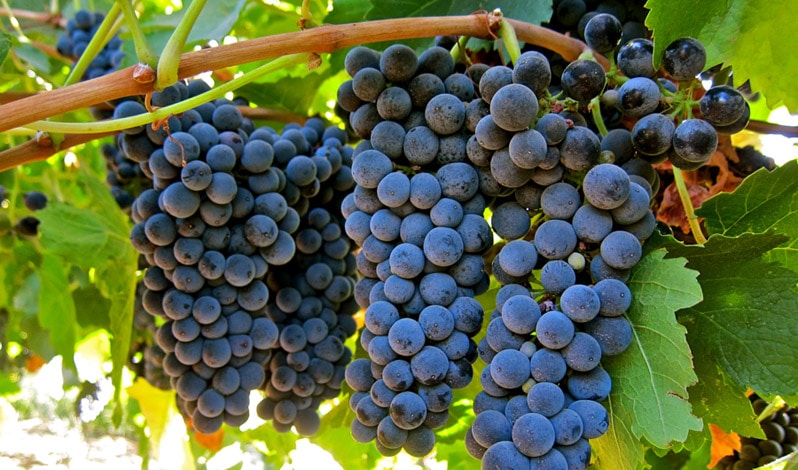 (Puh-TEAT Sur-RAH) is a cross between the two grapes, Syrah and Peloursin, developed in France in 1880 by Dr. Francois Durif. Though not known to be grown anywhere in France today, it is grown in California and Australia. "Petite"hardly describes its character. The grape produces a wine dark in color (blue-red hues) with great extraction and big tannins that will reward those with the patience to cellar. Even younger wines, however, will benefit from decanting.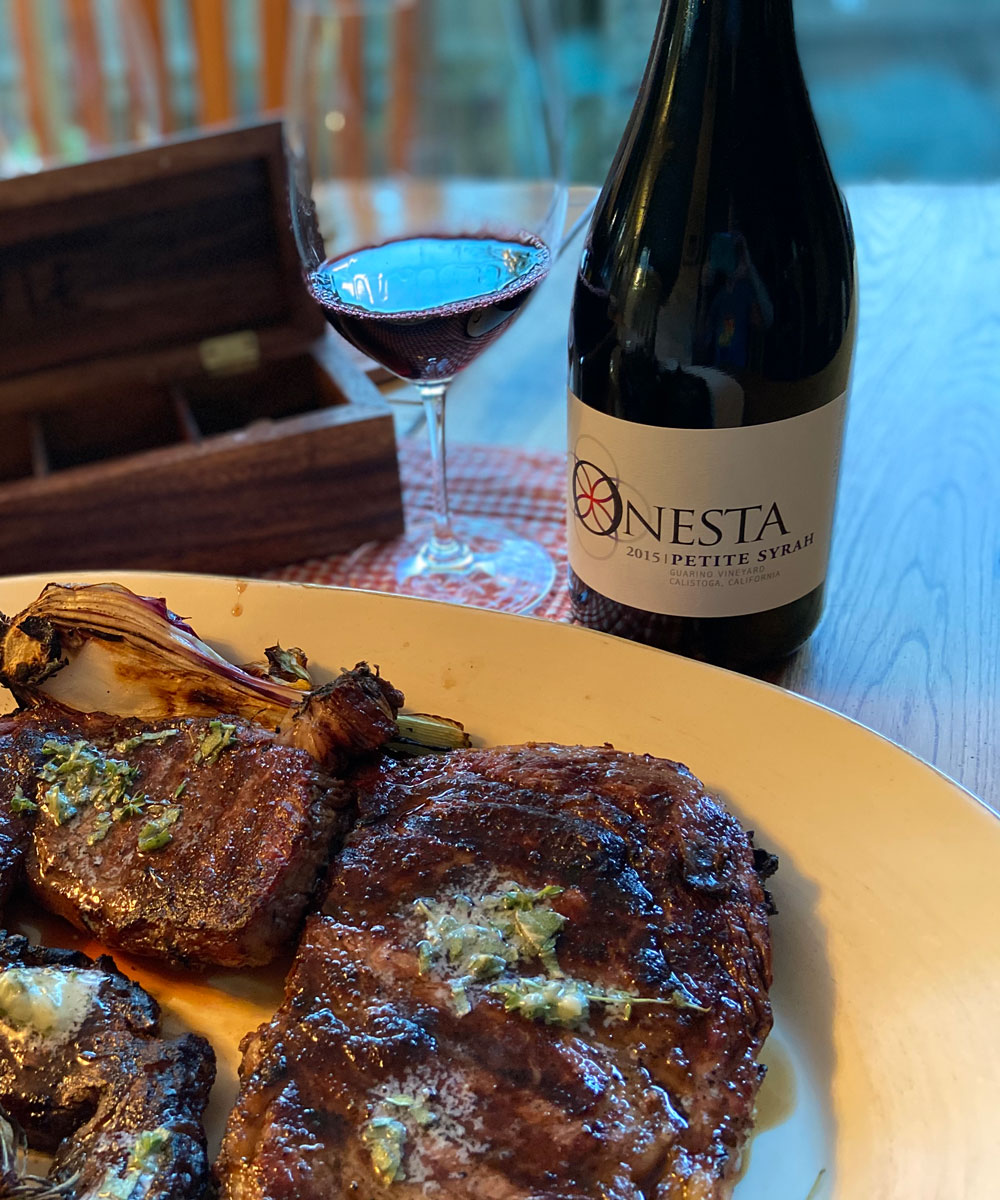 2015 Petite Syrah
Filled with blackberry, juicy plum, and hints of dark chocolate and mocha. The extraordinary flavors from the fruit, medium acidity and the oak barrel spice come together with layers of complexity. This full-bodied Petite has a smooth texture with a firm tannin backbone that will keep this wine drinking youthful over the next 10 years.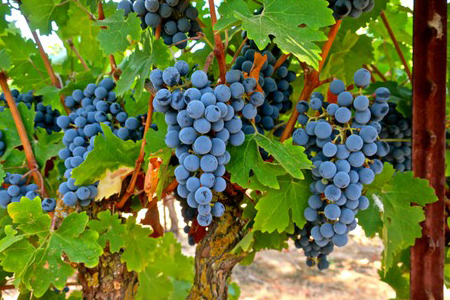 (Sur-RAH; also known as Shiraz) is the most planted Rhône varietal in California. Its aromas are of smoke, bacon fat, black fruit and crushed rock, with flavors of blueberry, blackberry, black olive and spice, full body and substantial tannin.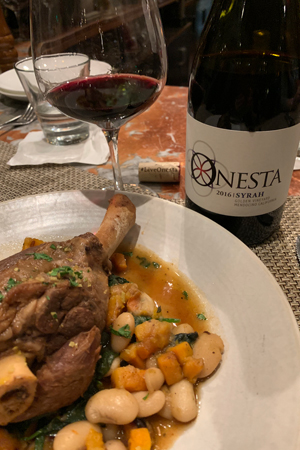 2016 Syrah
The Syrah is filled with juicy plum and black cherry with a hint of lavender and sage. After some time in the glass the earthy or meaty aromas release giving aromas of graphite and maple smoked bacon. The complexity of this wine comes to fruition on the palate with firm tannins and a velvety long finish. Drink now or save for up to 6 years.
"If you tell the truth, you don't have to remember anything."
– Mark Twain
Made in a Provençal style, the Rosé is completely dry and elegant with rich texture. Cinsault is the king of Rosé varieties in Provence, producing elegant & sophisticated wines.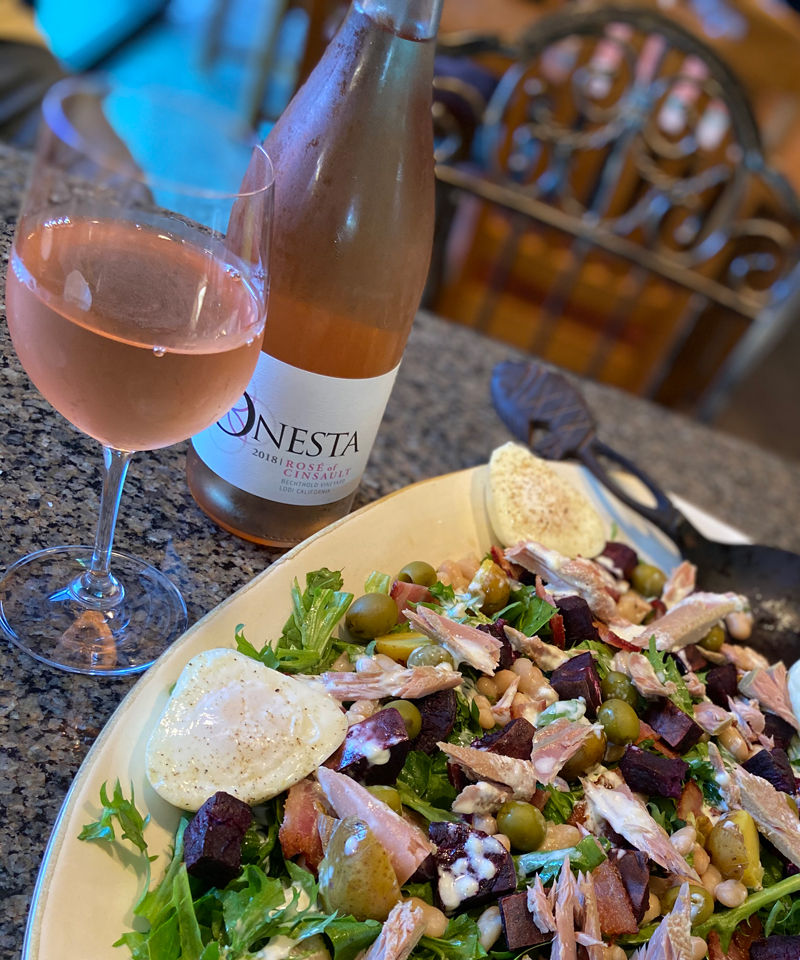 2019 Rosé of Cinsault
Onesta Rosé is opulent and bursting with flavors of guava and melon, delivering a mouthwatering long finish. Made in a Provençal style, the Rosé is completely dry (no residual sugar) and elegant which makes it the perfect wine for relaxing with friends on a warm spring or summer day.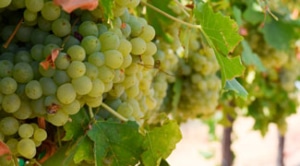 (Gruh-NOSH Blonk) is the white-berried equivalent of Grenache Noir, and, like its red variant, is drought-resistant, vigorous, and easy to graft. The varietal originated in Spain and still plays a role in the wines of Rioja and Navarre. From Spain, it spread to France where it has thrived in the vineyards of the Rhône valley and Châteauneuf-du-Pape. It is the fourth most commonly planted white grape varietal in France, comprising over 37,000 acres in Roussillon alone. Its high-sugar, high-acid, straw-colored bunches produce wines that are high in alcohol, with green apple flavors and aromas. Although it can stand confidently on its own, its crispness and long finish make it a tremendous blending component.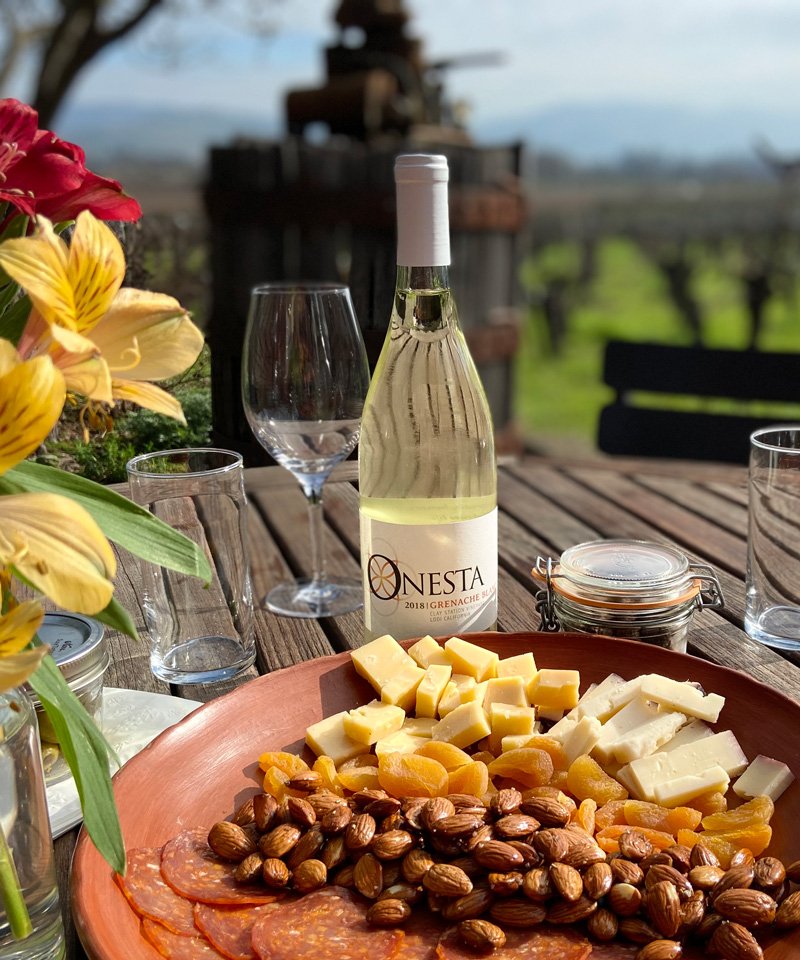 2019 Grenache Blanc
Meyer lemon, and a hint of white peach aroma jump out of the glass. A bright and refreshing white wine, with complex layers of sea mist and minerality, will quench any thirst on a hot summer day. Inspiration for this wine style developed while drinking the white wines from the Amalfi Coast of Italy, where the mountains meet the sea. Like the wines of the Amalfi region, the Onesta Grenache Blanc pairs perfectly with grilled fresh seafood drizzled with green herbs and lemon.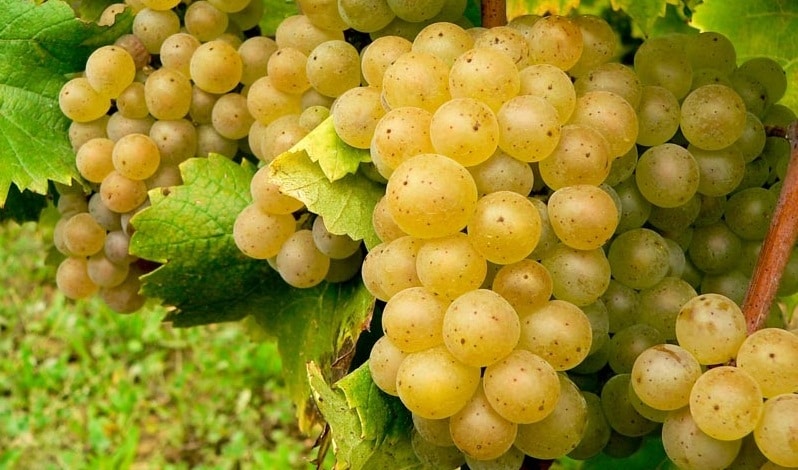 (VEE-ohn-yay) may be the world's least widely planted premium grape – but currently one of the most prized. In the vineyard, yields and acid levels tend to be low, and susceptibility to disease and rot high. In the winery, it is temperamental. But once in the bottle or the glass, a well-made Viognier comes with a deep, yellow color and an exquisite, exotic bouquet – apricots, pears, tropical fruits. In the Northern Rhone, viognier is the basis of the wines of Condrieu and Chateau-Grillet. In the U.S., it has a short but accelerating history. In 1996, for example, there were 645 acres of viognier vines in California; by 2004, planted acres had grown to over 2000.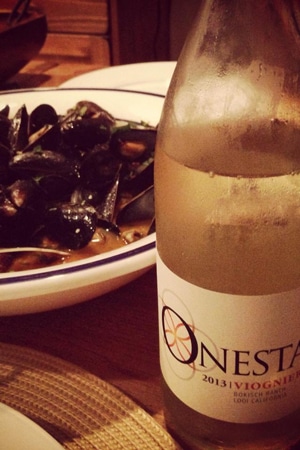 2013 Viognier
Onesta Viognier is farmed organically, producing small clusters that resemble shiny bundles of gold. This dry white wine is refreshing and bursting with orange blossom, apricot and nectarine. Fashioned after the northern Rhone Viogniers that have an elegant weight and age-ability, NOT the typical California over-ripe and over oaked Viogniers. Bright acidity and good texture give this Viognier an elegant finish that lingers on the palate.